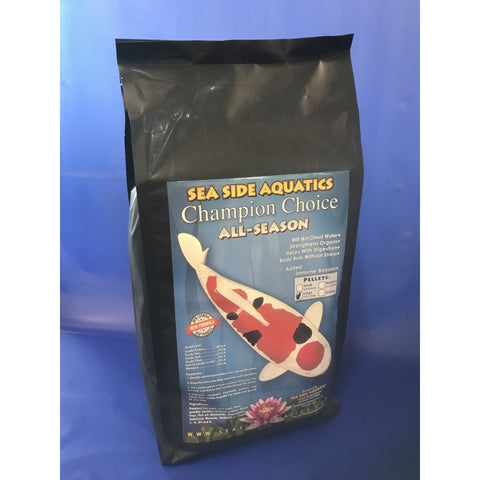 Seaside Aquatics
Sea Side Aquatics All Season Koi Food
Features
- Quality control guarantees only top quality food
- Digestive enzymes help minimize water pollution.
- This balanced fish food contains vitamins that can help your fish to stay healthy all year.
- Vitamins, minerals, vegetable protein, and wheat flour enable beautiful koi shape and growth all year long.
Ingredients:

Premium Fish Meal, Wheat Flour, Soybean Meal, Barley, Dried Yeast, Shrimp Meal, Protease, Minerals, Vitamins.
Medium Pellets - 5.3 - 5.7mm

Guaranteed Analysis:

Min. Crude Protein………………36%
Min. Crude Fat……………….....3%
Max. Crude Ash………………….14%
Max. Crude Fiber…………………4%
Max. Ash Insoluble in Hcl………..2%
Max. Moisture…………………….10%