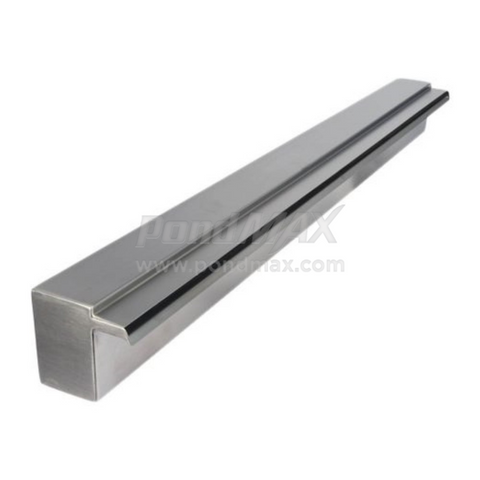 PondMAX
Aquaedge SS Waterfall Spillway
PondMAX Aquaedge stainless steel spillways are an elegant solution to integrate waterfall features into your landscaping or feature walls. The heavy duty spillways are designed to be used along with a pump to project a clear consistent sheet of water. Precise welds and an internal baffle system assure a contained, even flow of water, across the width of spillway. Suitable for indoor and outdoor use. 
11" and 23" models available in a bottom or back inlet.
35" - 58" models available in a back inlet only.
11" Stainless Steel Spillway - Recommended Flow (GPH): 1,000 ; Inlet (in.): 1-1/2" FPT
23" Stainless Steel Spillway - Recommended Flow (GPH): 2,000 ; Inlet (in.): 1-1/2" FPT
35" Stainless Steel Spillway - Recommended Flow (GPH): 3,000 ; Inlet (in.): 1-1/2" FPT
46" Stainless Steel Spillway - Recommended Flow (GPH): 4,000 ; Inlet (in.): 1-1/2" FPT
58" Stainless Steel Spillway - Recommended Flow (GPH): 5,000 ; Inlet (in.): 1-1/2" FPT